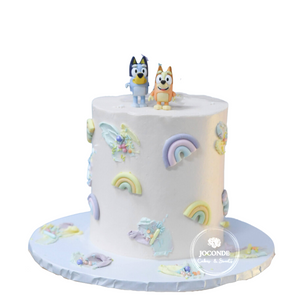 A beautiful, fun and artistic cake design for an event that is not centred around a specific theme. OR if you want to use your own topper figures you already have. Choose the colouring that best suits your event colours or the colours you like. 
The dragees & sprinkles are edible, but might be hard. Please use caution when serving, or when biting into them. Remove the dragees and/or sprinkles before serving young children.
Choose three colours from the drop down menus to customize your cake.All the decorations are handmade and edible. The design will stay the same, but the final look will depend on your colour choices. 
This Cake Does NOT include the characters on top of the cake or candles. Some Add-ons are available from the menu on this page, if you like to make the design fuller. For any other additional decorations, please contact us. 
If you would like to add a Happy Birthday Plaque or a Name (cutout fondant letters) please leave a note. If you wish to have both "Happy Birthday" plaque AND name, please note that they will NOT be on the same plaque. (Our Happy Birthday plaques are round embossed fondant pieces and we cannot add a custom name to it) We may need to move decoration pieces to allow for placement of names, depending on the length. 
Select your favourite flavour from our menu. All flavours feature 4 layers of sponge cake with our meringue based buttercream between cake layers. All Cakes are best served at room temperature. Please keep the cake in the fridge but Allow 2-3 hours at regular room temperature before serving, away from direct sunlight or a direct source of heat. All leftovers needs to be kept in the fridge.
*2 or 3 tier cakes will have extra decorations.Tiered cakes have dowels and lollipop sticks in the lower tiers to support the weight of tiers above, They need to be removed before serving. They will be easily spotted after cutting  Please refer to our cake cutting guide for tips of cutting all cakes. 
**Our cakes are nut-free. We use nuts in other products we make. Chances of cross contamination is low, but not zero. Please use caution with severe allergies. For allergy concerns please contact us.
*** The chocolate spheres are not edible, but covered in coloured chocolate so are food safe. They need to be removed before serving.